Posted by
Larkins
| February 17, 2010 .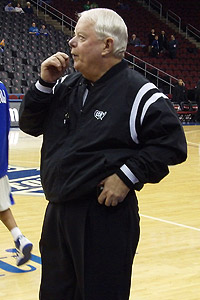 SYRACUSE, N.Y. — The brokenhearted Syracuse fan needed a place to vent his rage, and the man in zebra stripes provided the perfect target.
"Hey, Higgins," he screamed, "thanks for the Valentine's Day massacre."
Tim Higgins, Bob Donato and Tim Clougherty — between out-of-bounds calls, jump balls, fouls and timeouts — probably blew their whistles more than 100 times in the course of the Louisville-Syracuse game Sunday.
More here including video
http://sports.espn.go.com/ncb/columns/story?columnist=oneil_dana&id=4920019